(ISPA) is a new professional association established to promote the practice of Strategic Psychotherapy, and to support practitioners to become the best version of themselves.
Become a Member of ISPA
Based in Australia, ISPA was started by a group of like-minded practitioners who believe that Strategic Psychotherapy needs its own professional association.  Memberships are available for practitioners,  students, and anyone else who is committed to:
Supporting the successful launch of the ISPA community.
Helping us to shape a brand new association, designed to serve the specific needs of your clients and your practice.
Ensuring the continued recognition and growth of our sector.
Benefits of Joining Right Now:
ISPA Membership until the end of June 2023.
The credibility of an official personalised certificate that you can display in your practice.
The status of being a Member of an International Organisation and the fastest-growing psychotherapy association in Australia.
Ability to display/use the ISPA Accredited Practitioner badge in your signage and on your digital channels along with the logos of your particular college.
Priority access to ISPA services such as insurance, supervision, events, and unique training opportunities at a significantly discounted price.
ISPA  Membership costs just $197 AUD
Join today
If you don't wish to become a Member of ISPA right now, you can still keep up to date on the Association by registering your interest.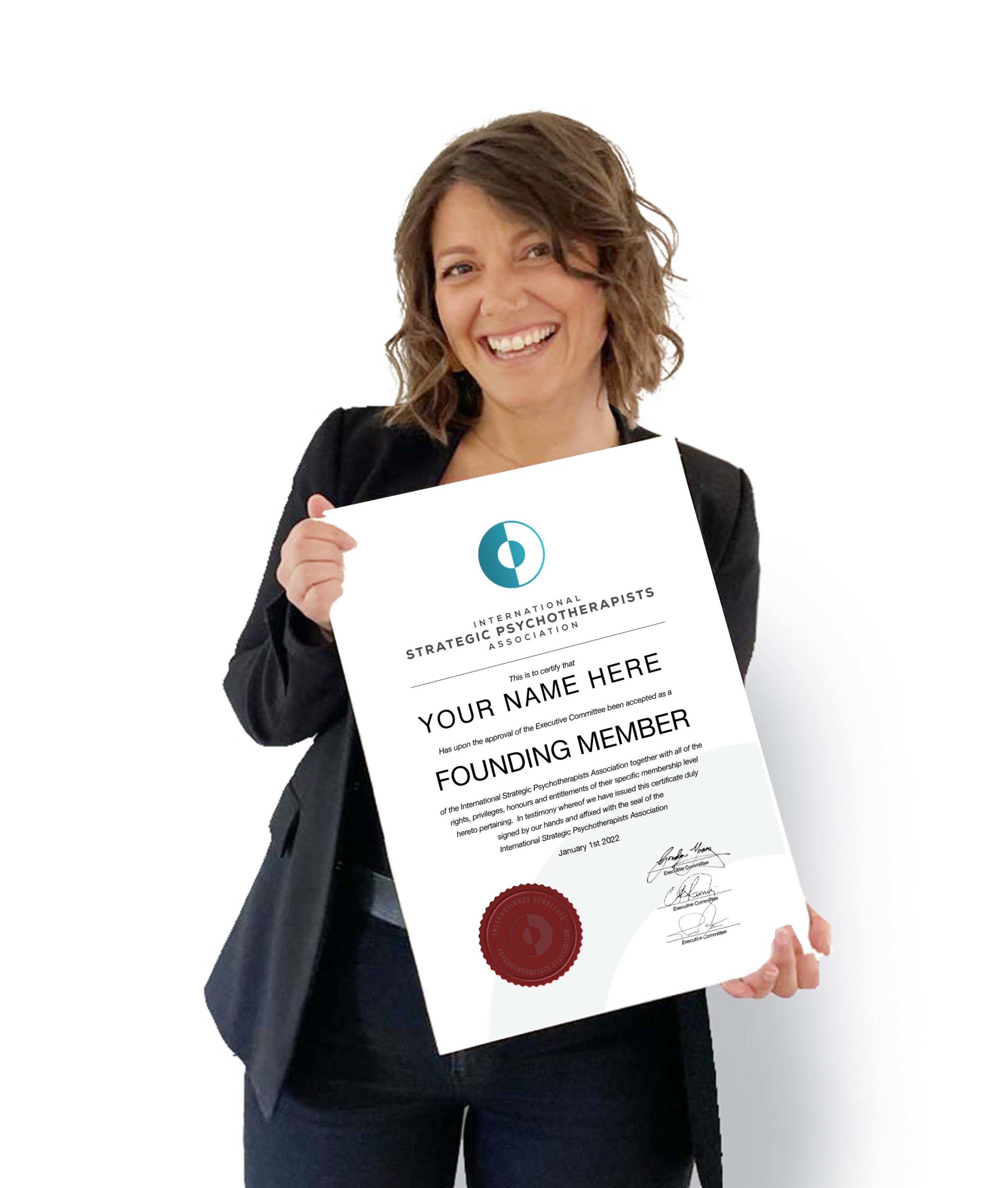 Questions you may have?
---
What levels of membership will ISPA have?
If you missed Founding Membership, ISPA also has a series of membership levels, each with its own joining criteria and benefits. These are :
Affiliate
Student
Non Practicing
Professional
Accredited
Clinical
Registered Clinical
Fellow
---
What are the benefits of being a member of ISPA?
As an ISPA member you will be part of an exciting, dynamic community committed to working together and growing our sector and, ultimately, your own practice:
The Support of a community of like-minded people, similarly trained, with a similar vocabulary, and similar goals.
Support of a Professional Association, tailored to the practice of Strategic Psychotherapy.
Protection – a clear Code of Ethics tailored to support your Strategic Psychotherapy practice.
More clients. Listing in the International Directory of Strategic Psychotherapists. (coming soon)
Public awareness – Information for the general public.
Lobbying on your behalf in areas such as government legislation.
Inclusion in ISPA-led Private Health Fund negotiations.
High quality Continuing professional development. Michael Yapko and Robert Dilts open the international programme.
Access to Strategic Events and Workshops + Practice Building Tips and advice
Professional supervision.
Affordable insurance.
---
What kind of Continuing Professional Development (CPD) and events does ISPA offer?
ISPA is planning to offer a range of online and in-person events, training, and workshops throughout the year. Where appropriate, attendance will be recognised in the allocation of CPD points.
---
Will I be able to get insurance through ISPA?
ISPA has negotiated specific arrangements with two insurance companies to provide insurance, ensuring you can protect your practice.
---
What supervision framework does ISPA intend to operate?
ISPA is planning to have its own supervision framework with one-to-one and group supervision available.
In addition, as ISPA is a member of the Hypnotherapy Council of Australia (HCA), supervisors with other member associations of the HCA will be recognised by ISPA provided they have a sufficient amount of experience in the strategic psychotherapy space.
Non-ISPA supervisors with other HCA associations will be accepted by the ISPA Board.
---
What is Strategic Psychotherapy?
Strategic Psychotherapy is a highly effective and rapid form of talk therapy where the therapist strategically works with their client to help them recognise how they may be creating their own problems, challenges and limitations because of how they respond to situations and events.
A key part of Strategic Psychotherapy is helping the client to identify experiential gaps and behavioural patterns they are running that may be supporting their issues and then developing a strategic approach that activates existing strengths and resources within them to overcome these challenges.
Strategic Psychotherapy lays a great foundation for impactful and effective intervention — especially when used in conjunction with other techniques such as Coaching, Counselling, and Clinical Hypnotherapy.
---
Join today
If you don't wish to become a Member of ISPA right now, you can still keep up to date on the Association by registering your interest.